$Id: jowe.htm 0.4 1995/09/09 15:48:41 ak-msy Exp ak-msy $
Under Construction
---

The 9th of July.
	Add Images( Palooks Album Page & Jowe's Album Page).

---
Jowe said about this picture "It is a sample of the art-work of That Iam makeing for my next album for a label in The U.S.A called Bobit JUICE"
(copyed paper hand-coloured with coloured pencils)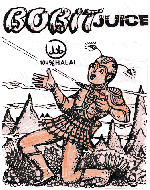 (about 60K)
---
Solo
Albums
Single
Misc.
---
Televison Pesonarities
He became a member of TVP's in 1984 and is it now. Reffer to TVP's Page.
---
Swell Maps
He was a member of Swell Maps.
---
Cult Figures
Singles
I know only one 7" single.
---
Palookas
"This Lovable troupe is fronted by General Jowe Head, who was sent to the front to entertain the troops and was brought back for cheering up the enemy."
from the commnet on the "Hit The Bottle" Back Jacket.
Palookas' Discography
---
House Hunters
Albums
FEEDING FREENZY

Jowe wasn't credited on the jackets. But Jowe said featuringJowe and I can hear his voice.
---
returns to ak's Music Page
---
ak-msy@ipc-tokai.or.jp